Dick Schreder Memorial
by
Charlie Spratt
| | |
| --- | --- |
| 2nd from left is Carol - Schreder Dick's oldest daughter, Dick's niece Beth, Charlie Spratt, Karen Schreder - Dick's youngest daughter, and Angie - Dick's wife | Bob Jackson, Lorry Charchian, Mark McGroth, Pete Smith, Bob Bieninstein, and Lock Ohman |
A memorial was held for Dick Schreder in Bryan Ohio site of the first 15 Meter Nationals held in the United States. Friends from all over gathered on September 7th and 8th to honor Dick and all his achievements in Soaring. Many were the pilots who flew with Dick in his great racing days. Among the group was Joe Emons the winner of the first 15 Meter Nationals and Bob Jackson who flew all the races staged at Bryan.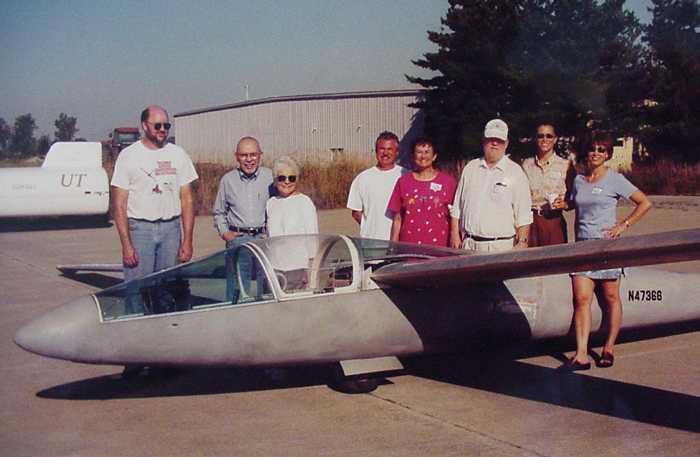 Steve Leonard, Joe and Shirley Emons, Mark, Angie, Charlie, Karen, and Carol

Steve Leonard brought the HP-14 that Dick built in Bryan and took to the 66 Nationals in Reno. Dick won the National Championship flying that plane for the first time. The HP had been in storage for over 20 years after a ground accident and Steve took the time and effort to have it flying for the Memorial. It was very nostalgic to see that plane flying over Bryan once more. On Sunday Steve flew the HP-14 up to Michigan then over to Indiana and back to Bryan as a tribute to Dick and his designs. It was a joyful weekend filled with stories and photos from Dick's life. Dick was an Icon in our Sport and represented all that is great about it.

| | |
| --- | --- |
| Carol's daughter and Dick's granddaughter Christie, Gregg, Carol, Charlie, Karen, and Rich Mozer | Attending pilots |
It is great to see so many Soaring icons here for this salute to Dick. Udo Rumph brought his HP-18 and it is the best-looking HP I have ever seen. Udo is a real craftsman and this HP is perfect.



Memorial "thank you" from Steve Leonard:

Thanks to all those that came, flew, talked, helped or just were there to see what was going on. I took my HP-14 (The one that Dick built in 1966 and used to win the Nationals at Reno, Nevada) and got to make two flights. This glider had not flown for over 24 years. Saturday was not so good. Warm, somewhat stable. Best altitdue was about 6,000 MSL, and nobody ventured very far from home. There were a total of 12 gliders on the filed. Two were HPs. A good meal was provided and a nice presentation made by Angie Schreder, Karen Schreder Barbera, Carol Schreder Pesnar (hope I got that right!), and Charlie Spratt. Lots of pictures, lots of stories, lots of memories were re-lived. Everything from falling Bondo to discussions of mortality while delivering Taco Sauce in a light twin.

Steve Leonard and CFIG Duane Eisenbeiss going through cockpit checkout.

Most everyone left before noon on Sunday. I guess that is what made the weather turn good. I made my second flight in this HP-14, got to 9,500 feet, saw a couple of climbs in the 6-7 knot range, flew north of Adrian, Michigan, over into Indiana and then home (Thanks for sticking around to tow, Linda. I owe you one!). I now have about 3.5 hours of HP-14 time. For those of you that couldn't attend, you missed a good time. For those that were there, it was good to see you again. Let's do this again soon.

HP-14 N4736G Serial Number 1